Table of Contents
As the cost of higher education continues to rise, many students turn to loans to pursue their academic dreams. The burden of student loans, however, can be overwhelming post-graduation. Fortunately, there are various repayment plans available to ease this financial strain. One such option is the SAVE IDR Student Loan Repayment Plan. In this comprehensive guide, we will delve into the essential aspects of the SAVE IDR plan, providing you with the knowledge you need to navigate your student loan repayment journey successfully.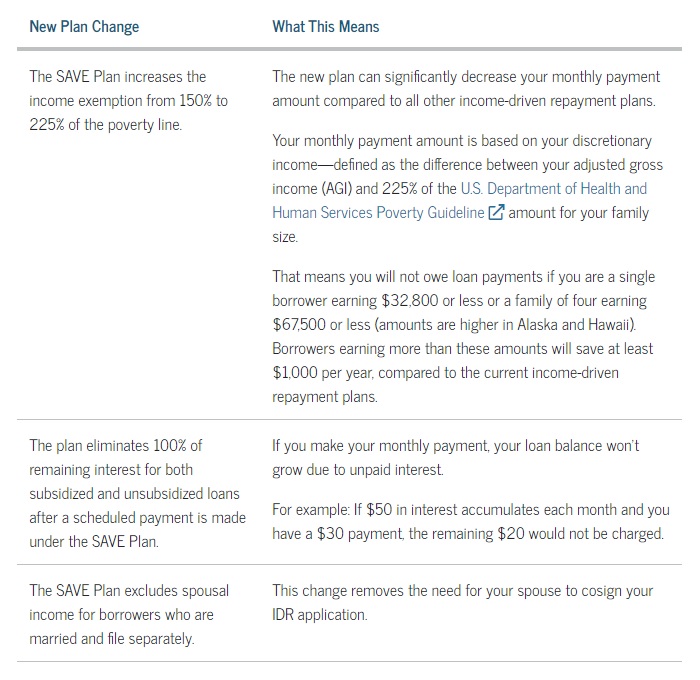 1. Understanding the SAVE IDR Student Loan Repayment Plan
The Saving on a Valuable Education (SAVE) Income-Driven Repayment (IDR) plan is a tailored repayment option designed to make student loan repayment more manageable. It takes into account your specific financial situation, including your income, family size, and living expenses. The plan allows you to make monthly payments based on a percentage of your discretionary income, ensuring that your payments remain affordable.
Key Features:
– Customized Repayment: Unlike fixed repayment plans, the SAVE IDR plan adjusts your monthly payments based on your financial circumstances. This flexibility ensures that your payments remain proportionate to your income and prevent financial strain.
– Discretionary Income Calculation: The plan calculates your monthly payments by deducting a specific percentage of your discretionary income from your total income. You can typically set this percentage between 10-20%, ensuring that there is enough money available for your basic living expenses during this period.
– Loan Forgiveness Potential: Under certain circumstances, such as after 20-25 years of qualifying payments, you may be eligible for loan forgiveness. It's crucial to understand the eligibility criteria and requirements for loan forgiveness. Click here to see if you qualify for a Public Service Loan Forgiveness (PSLF)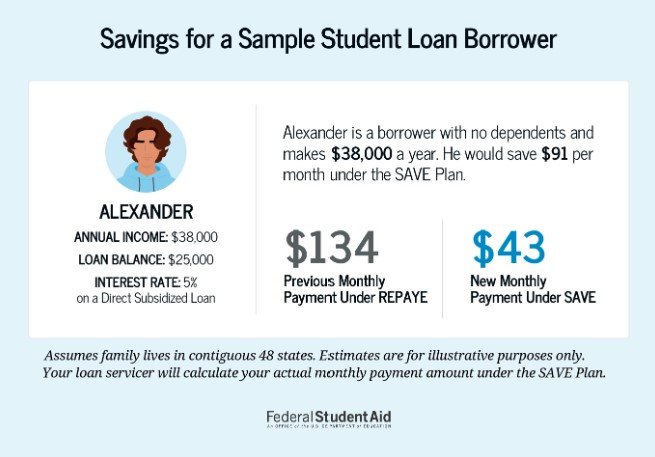 2. Eligibility and Application Process
To benefit from the SAVE IDR Student Loan Repayment Plan, you must meet specific eligibility criteria and follow the application process. Here's what you need to know:
Eligibility:
– Federal Loans: The SAVE IDR plan is available for most federal student loans, including Direct Loans, Stafford Loans, and Grad PLUS Loans. Private student loans are not eligible for this repayment plan.
– Financial Qualification: To qualify, you need to demonstrate a financial need, typically through your annual income and family size. You should login to your Federal Student Aid account to complete your IDR Plan application.
Application Process:
– Contact Your Loan Servicer: Reach out to your loan servicer to express your interest in the SAVE IDR plan. They will guide you through the application process and provide you with the necessary forms.
– Complete Documentation: Prepare the required documents, such as income verification and family size details. Ensure accuracy to prevent delays in processing your application.
– Stay Informed: Monitor your application, follow up with the servicer if needed, and once approved, payments will adjust.
3. Pros and Considerations of the SAVE IDR Plan
Pros:
– Affordable Payments: The SAVE IDR plan adjusts monthly payments for better affordability.
– Flexibility: If your income changes over time, your payments can be adjusted accordingly, reducing financial stress during periods of economic uncertainty.
– Loan Forgiveness Potential: Adjust payments with changing income to ease financial stress during uncertain times.
Considerations:
– Longer Repayment Period: Opting for an income-driven repayment plan might extend your repayment period, resulting in higher overall interest payments.
– Tax Implications: Forgiven loan amounts under the SAVE IDR plan may be considered taxable income in the year they are forgiven, potentially resulting in a tax liability.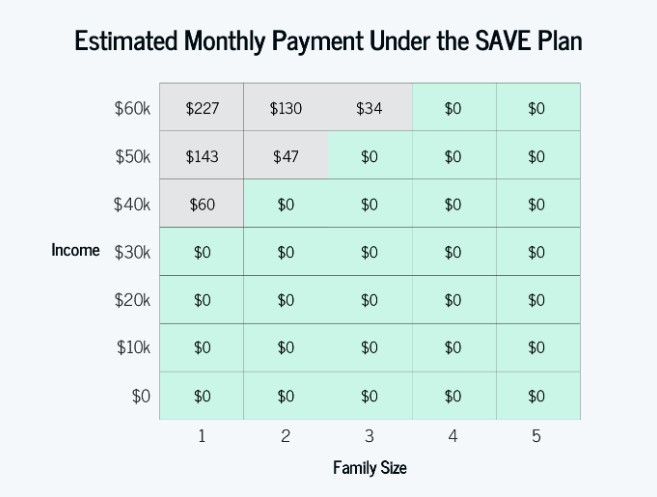 In conclusion, it can be said that the SAVE IDR Student Loan Repayment Plan offers a lifeline to those who are struggling with student loan debt. In essence, this plan provide borrowers with an approach to repayment that is tailored to their specific needs, it empowers them to effectively manage their finances while still working toward their career goals. It is crucial that you fully understand what you are getting into before making any decisions. This includes the plan's terms, implications, and eligibility criteria before making any decision. By doing this, you can control your student loan repayment and create a path to a financially stable future.
Paying student loans on time is of paramount importance for maintaining financial stability and building a secure future. Timely payments not only prevent the accumulation of interest and penalties but also contribute to establishing a positive credit history. This, in turn, affects one's ability to secure favorable interest rates for future loans, such as mortgages or car loans, and can even impact employment prospects in some cases. By honoring payment deadlines, individuals demonstrate responsible financial behavior and a commitment to fulfilling their obligations. Ultimately, timely repayment of student loans paves the way for a stronger financial foundation and increased opportunities for long-term success. Learn how you can manage and stay on top of your credit score from our previous post.